Published in Bustle
By Casey Cipriani
In Bukavu, a city in the eastern part of the Democratic Republic of Congo, there is a place where women who've suffered brutal rapes at the hands of violent militias can find safety, comfort, and recovery. The new Netflix documentary City of Joy, premiering on Sept. 7, captures these survivors' lives and recovery process, showing how they slowly rebuild their lives after trauma. But in addition to telling the heart-wrenching stories of these brave people, the doc also highlights the importance of women taking initiative, learning more about their own bodies, and participating in female sexual education.
Directed by Madeleine Gavin, City of Joy tells the story of the recovery community for Congolese women founded by Christine Schuler-Deschryver, a Congolese-Belgian women's rights activist; Dr. Denis Mukwege, a Congolese gynecologist and Nobel Peace Prize nominee; and Eve Ensler, the American feminist activist and playwright famous for penning The Vagina Monologues. The center helps women heal both physically and mentally from trauma by teaching them self defense techniques, business skills, and ways to express their experiences with writing, public speaking, and celebrating their lives.
A big part of the women's experience at City of Joy involves female empowerment, and not just through the use of fighting techniques. The participants learn that as women, they don't have to be submissive, and that they hold the power to enable their own recoveries. This is the most evident in the story of one woman, Jane, who's survived rape and her family's murder. It's an extremely painful tale to hear, but Jane's recovery, positivity, drive, and happiness are inspiring and a testament to the successful execution of City of Joy.
One of the biggest elements in helping these women thrive after trauma involves teaching them about their own bodies. For so many of these women, anatomy is foreign territory. Their vulvas, vaginas, bladders, rectums, and reproductive systems suffer intensely during their tortures, but they're also the parts of their own bodies that the women have been taught to avoid. Most of them have never seen their own vaginas, have been told that even saying the word is a sin, and that the violation of it is something to be ashamed of. So when the women are given hand mirrors to examine themselves, it's incredible to watch their embarrassment quickly give way to pride. No woman should ever be ashamed of their own body parts.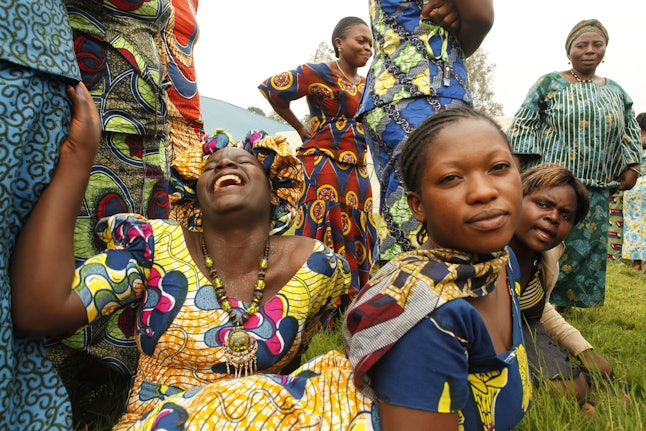 In the documentary, Dr. Mukwege says that the center aims to "revolutionize the minds of Congolese women." It's clear that this has as much to do with teaching them new skills as it does with smashing the patriarchal ideas having to do with female bodies and rape n some countries. Watching the film, it's shocking to hear that the men in these women's lives reject them after their trauma. Husbands abandon wives who have been raped, their humiliation overpowering their supposed loyalty, and fathers cast out daughters, lest a curse be brought upon their household. These old-fashioned ideas of masculinity and the stigma placed on women due to culture and religion showcase just how important it is for women to be given the skills to speak up.
Around the world, it's becoming more and more clear that sex education can provide a clearer path to safety and independence, especially for women. Studies and statistics show that more comprehensive sex education helps decrease sexual violence. The women in City of Joy have experienced unimaginable crimes, and the stories of their recovery are simultaneously heartbreaking and uplifting. But as the doc shows, knowledge is power, and one's own body can be our first educational tool.